GMO's have become the #1 most talked about aspect of the food industry in its history.  It is not surprising either, considering it now has affected every country on the planet. GMO foods are such an embedded part of our food system these days, but it's not difficult to think back to a time when food was simpler and healthier. How did we get to the point that genetically engineered organisms infiltrate so much of what we eat?  It actually started with the discovery of DNA by Russian scientist Andrei Nikolaevitch Belozersky in 1935. Speed ahead to 1982 and the first GMO appears on the market. 1994 – GMO Hits Grocery Stores – The U.S. Food and Drug Administration approves the Flavr Savr tomato for sale on grocery store shelves. The delayed-ripening tomato has a longer shelf life than conventional tomatoes. The rest is history, but today as we all are learning the ill effects and concerns presented by this monster, consumers are demanding to know what foods it is in. 1997 – Mandatory Labels – The European Union rules in favor of mandatory labeling on all GMO food products, including animal feed.  Today, the U.S. FDA still has yet to even recommend labeling.  That is where we come in.  If the government isn't going to mandate what foods have it in, then we will certify what foods don't have it in, hence BioChecked Non GMO Certified™ labeling program.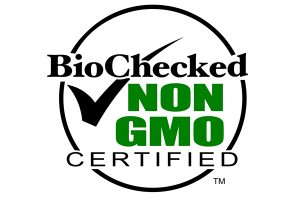 Our BioChecked Non GMO Certified™ brand program certifies producers have provided to us laboratory results that their produce or products are GMO free. Producers that use our trusted BioChecked Non GMO Certified™ brand are producers who care about your family and what they put into their bodies. That is why they go the extra mile to provide you with an independent third party witness to their GMO free laboratory certifications/results.  Our producers want you to have peace of mind when you purchase produce and products with our trusted BioChecked Non GMO Certified™ seal.
We allow these same producers and manufacturers to participate in the BioChecked Non GMO Certified™ program by having their produce, seeds, feed and processed foods tested by leading, independent, genetic testing laboratories. Once their products meet and maintain our standards/threshold we allow these producers to put our BioChecked Non GMO Certified™ brand on their marketing and product labels.
*BioChecked Non GMO Certified™ Threshold/Standards
Threshold –
0.1% – seed
0.5% – human food, ingredients, supplements, personal care products, and other products that are either ingested or used directly on skin
0.8% – animal feed and supplements
Standards –
All producers and manufactures must clearly prove and maintain their products and produce as NON GMO through DNA laboratory results. They are also required to test by an approved laboratory on an regular basis.
Laboratories-
BioChecked™ only recommends laboratories and testing facilities that are currently using ELISA protein or DNA/PCR testing methods including quantification PCR. The specific type of test used depends on the type of sample provided. Laboratories and testing facilities must also routinely participate in proficiency and validation tests conducted by USDA/GIPSA, USDA/APHIS, ISTA, AOCS, and other certifying agencies.
As a third party, we hold the producers' Certificate of "GMO Free" from or for the producer by laboratories, engineers and leading industry processing professionals and scientist so they may bare our trusted seal of  **Non GMO Certified™.
As a producer you can get started by requesting our registration form.  This will clearly explain the full process, time and pricing.
**Our BioChecked Non GMO Certified™ seal or brand is also known in the industry as (a.k.a.):GMO FREE CERTIFIED™ – NON GMO CERTIFIED™ – 3rd PARTY CERTIFIED™ – CERTIFIED GMO FREE™ – CERTIFIED GMO SAFE™  – CERTIFIED NON GENETICALLY ENGINEERED™  – GMO FREE VERIFIED™ – NON GENETICALLY ENGINEERED™ – CERTIFIED NON GENETICALLY ENGINEERED™